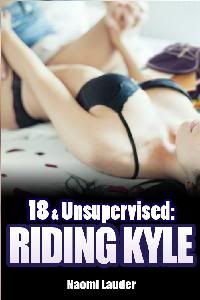 My debut novel,
Riding Kyle
is part of the
18 & Unsupervised
non-sequential mini-series. It is a sexy tale of two students, Amanda and Kyle, fresh out of high school who have been keeping their lust for one another a secret. Of course, until the time of this steamy short story.
What inspired me to write this?
One day, while I was sitting in my usual coffee shop enjoying a cup of steamy goodness, at the table next to me sat a couple. Sexual tension was almost palpable between them, but they kept it together pretty well. After a while of eavesdropping I discovered that they were not a couple, as I first guessed.
Which made me think of my own personal embodiment of lust in male form. Of course, I had fantasized about "Kyle" before, but watching the two of them interact and drop painfully obvious hints at each other encouraged me to start recording all of my own fantasies...
And then something miraculous happened: "Kyle" confessed his lust for me. It was a wordless confession- having softened me up with a small gift for the holidays and a cup of coffee, everything fell naturally in place after that, one thing lead to another and sha-bam. I landed one steamy night with my own personal Adonis, and adjusted the tale accordingly while he looked over my shoulder.
Thus,
Riding Kyle
was born. Now, whether or not those minute details: sex on the counter, deep throat blow jobs, sixty-nine and cumming on "Amanda's" exhausted body
actually
occurred.... Well, I will leave that up to you ;)
Teeny-Tiny Excerpt for your Enjoyment
Kyle couldn't help his grin while he shamelessly took in her figure; the cleavage of her breasts over her bra and he soft curve of her hips were so warmly inviting. Amanda kept her eyes on him, the way his gaze trailed over her spiked her lust. She mentally celebrated her idea to freshen up absolutely everything before coming over... just in case. Kyle got up, took a step towards her, eyes darkened with want. But she took another step away from him.
"It's your turn." She said with a playful smile, resting her eyes over his chest and shoulders. Kyle quickly removed his shirt, revealing his bare chest and stomach, thin and firm. Amanda grinned at him and wandered closer to the kitchen. She stopped where it began and, still holding his dark eyes, unbuttoned her jeans, unzipped them, and pulled the sides far apart so her black lack panties just peeked out. With every step she took towards the kitchen, her jeans slid and revealed more of her slim legs. She was a few steps in before they finally fell to her ankles and stepped out of them....
(C) Naomi Lauder 2012
If you've read it, or like my work in general, I would love to hear from you! Post a comment or shoot me an E-mail at: naomilauder2012fan@gmail.com
IT'S ON SALE!!
https://www.smashwords.com/books/view/138458
Coupon code:
ZB82X
Expires: 5/4/2012